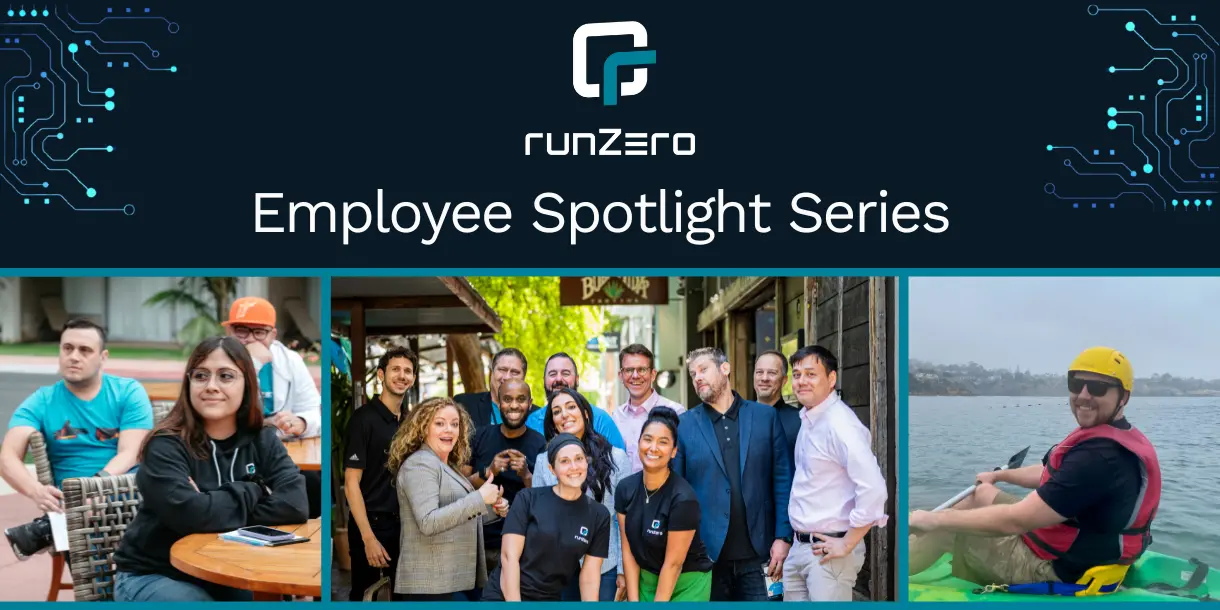 Chris is a driving force behind the runZero finance department, as our Senior Staff Accountant, supporting both our Director of Finance and CFO. As a lifetime learner, she earned her Master of Business Administration (Accounting and Finance) in 2019. Her advice to others looking to return to school later in life? Remember to keep an open mind and look into everything.
Chris's life doesn't totally revolve around numbers. She's an animal lover, community volunteer, and horror genre enthusiast. She enjoys spending quality time with her children, husband, and beloved pets. She's open to discussing movies, books, or podcasts and learning how others feel about them. Chris is an honest communicator, values determination, and seeks to understand others' perspectives. Chris has a warm and welcoming personality; she's been a great addition to runZero.
Learn about what Chris had to say about working for runZero and our culture!

Q&A
►
How do you summarize what you do?
I'm responsible for uploading all kinds of information into the Finance and Accounting department systems. Think of all the accounts payable, accounts receivable, invoicing, expense reports, bank reconciliations, etc.
That leaves me in a support role for our Director of Accounting and CFO. They run reports based on the information I put into the accounting and invoicing systems.
There's that old saying, 'garbage in means garbage out'. I make sure that there is no garbage, confirming they can rely on what they get and use it for financial forecasting.
►
What do you think sets you apart in your field?
I'm a detail-oriented person who will ask a billion questions. It's very helpful when you're working in accounting, but in general, anything that I've put in, I've given a great deal of thought. It usually is spot on.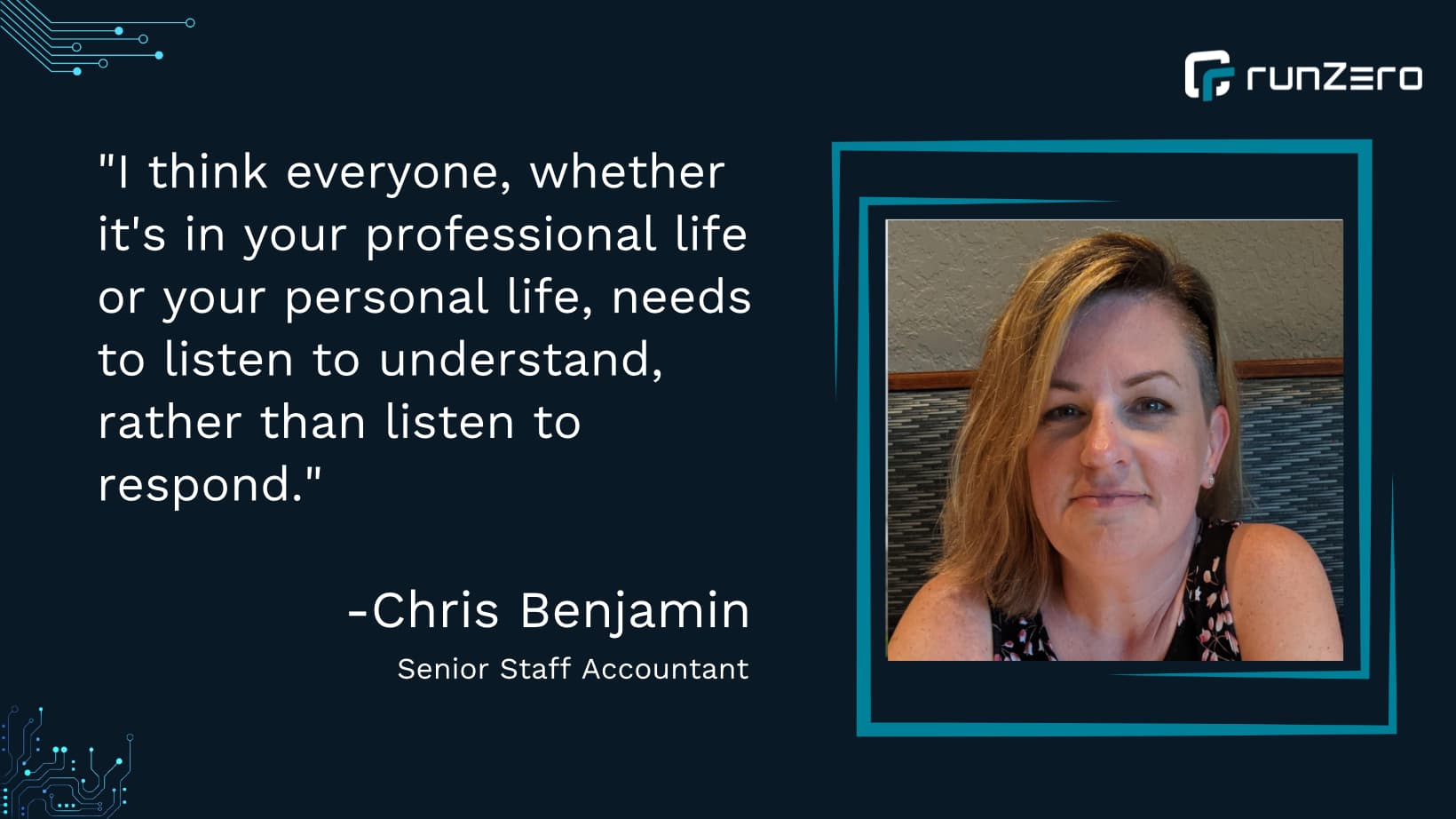 ►
What makes runZero different from other organizations that you've worked at?
I could talk for an hour about how runZero is different from any other organization I've worked for. The biggest takeaway for me, personally, is that I have really regained my work-life balance, which has been amazing.
I just recently was off for an entire week and nobody called or texted me, asked me any questions, or expected me to do anything, and that was a first for my career.
Being able to unplug and being encouraged to do so is not something I've ever experienced before, and it has made me a better employee, wife, mother, and friend. Every facet of my life has improved because I'm not feeling that constant pressure and burnout.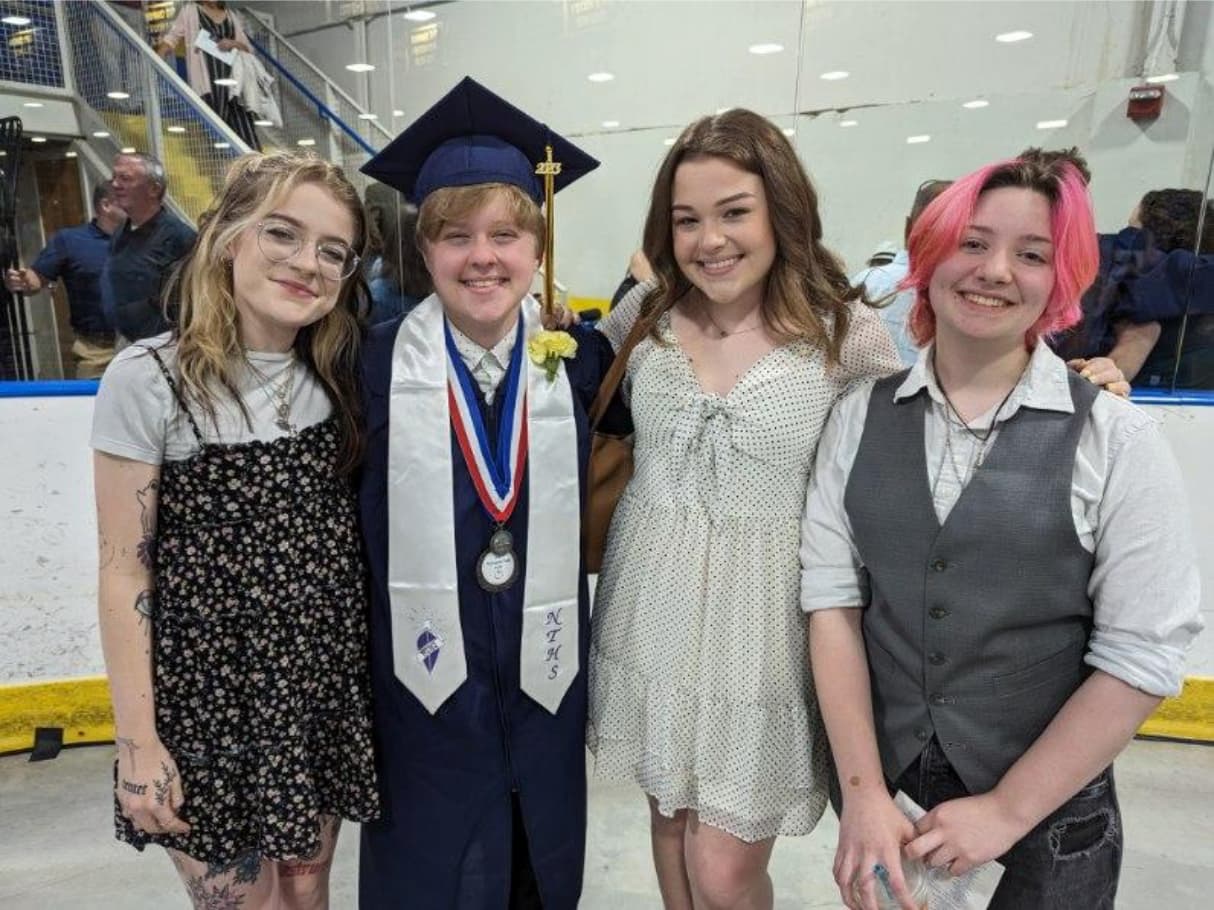 ►
What do you think is the most important skill that a successful professional needs to have?
I think everyone, whether it's in your professional life or your personal life, needs to listen to understand, rather than listen to respond.
A lot of us get caught up in thinking about what's best for us, and that's what we're going to argue for. When someone is talking, they're crafting a response in their head, instead of fully giving attention to the person that's talking. Especially in my line of work, it is easy to do. We're interfacing with other departments, trying to solve issues, especially in a start-up. It would be very easy for me to say "This is how accounting does it".
But instead, you have to listen to what they're saying, so you can figure out what's best for the customer and what's best for the company as a whole. We may be able to make some adjustments so that we can better serve everyone else.
And like I said, I mean that that rolls over in your personal life, too. You have to be able to look at all aspects of what's happening around you.
►
What's your favorite movie?
Happy Gilmore! It's the most ridiculous movie but it's like chicken soup for my soul and never fails to make me smile.
I'm also a huge horror movie person and have been since I was too young to see them. It caused me lots of sleepless nights!
►
What's your favorite horror movie?
It is so hard! I guess I'd go with Sinister.

Contact Chris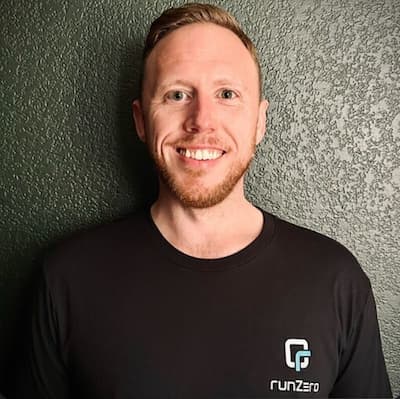 Written by James McNulty
James McNulty is the Senior SEO Specialist at runZero. With over two decades of web development and search engine optimization experience, throughout his career, James has achieved remarkable success in executing SEO campaigns for various SaaS companies. Notably, James formerly collaborated with Sysdig, a leading cloud and container security platform, delivering exceptional results.
Similar Content
June 27, 2023
Employee Spotlight: Ali Cheikh
Ali is a talented Sales Engineer with over 14 years of experience in the field. Learn more about what Ali had to say about working for runZero.
September 8, 2022
What I've learned working at runZero as a UX/UI designer
Hello, I'm Abeer, the lead UX/UI designer at runZero. When I joined the company a little over a year ago, I knew almost nothing about networking. For example, I couldn't tell you the difference between an authenticated and unauthenticated scan. Most of my …
Read More
June 30, 2022
Employee spotlight: Greg Corbin
Rumble Network Discovery is now runZero! Meet Greg Corbin, Director of Finance and Accounting # Welcome back to our employee spotlight series. This week, we're spotlighting Greg Corbin, who is the Director of Accounting and Finance. In his role, Greg oversees …
Read More