Improve your data accuracy & comprehensiveness #
Managing an inventory of assets is critical to functioning as a modern business. Many organizations rely on Configuration Management Databases (CMDBs) to help them manage their assets from acquisition through retirement, tracking everything from departments and owners to versions and patches. But what about assets that aren't onboarded to the CMDB platform, or assets that the CMDB has inaccurate information about?
Only 25% of organizations are extracting meaningful value from their CMDBs. Two main reasons for this are that CMDBs can't help with unmanaged devices and CMDBs often have incomplete or inaccurate asset data.
Benefits #
●

Single source of truth for all assets

●

Consolidated inventory across your entire organization

●

Correlated attributes from runZero scans and ServiceNow
How runZero helps
Know all your assets
How can you expect to manage assets you don't know about? The runZero Service Graph Connector brings your complete asset inventory into your ServiceNow CMDB. Once configured, you can quickly identify assets that need your attention and ensure they get managed in accordance with your organization's policies. By scanning your network with runZero you can be confident that you've discovered every asset–even the ones your CMDB didn't know about.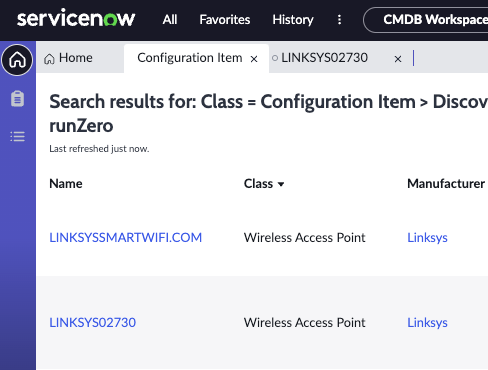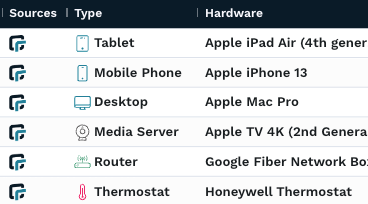 Get better data quality for your assets
In addition to delivering complete network visibility, runZero's unparalleled fingerprinting capabilities help you get the most accurate information about your assets. This data effectively supplements the managed asset profiles in your CMDB, adding context and enhancing visibility with accurate and up-to-date details about your assets.
How it works
Step 1: Scan your network with runZero
Step 2: Configure the runZero Service Graph Connector in ServiceNow
Step 3: Identify and onboard unmanaged assets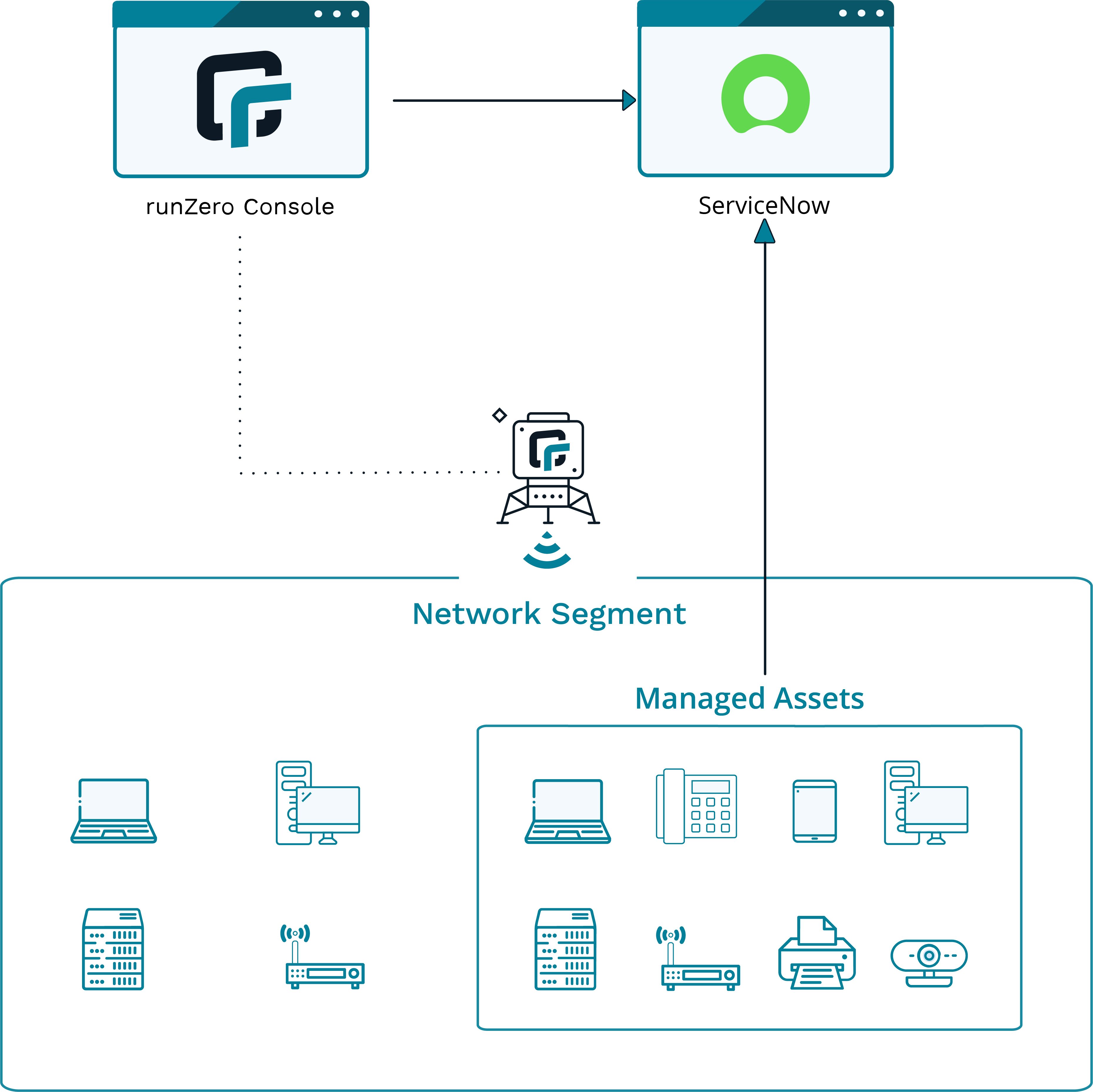 Deploy runZero anywhere, on any platform, in minutes
runZero scales across all types of environments, and works with cloud, EDR, VM, CMDB, and MDM solutions. Deploy the Explorer in your environment to enable network and asset discovery for runZero. Then configure the runZero Service Graph Connector in ServiceNow. View your asset inventory in your ServiceNow CMDB.
● SaaS or self-hosted options
● Active scanner, no credentials required
● Safe to use in OT environments
● No endpoint agents, endpoint logins, traffic captures, netflows, span ports, or network taps required
● Powerful query language to get full asset details and network context
● Integrations with cloud, EDR, VM, CMDB, MDM, and productivity suites
Try runZero and ServiceNow together
Stay on top of managing your network assets by integrating runZero with ServiceNow to get a comprehensive asset inventory at your fingertips. Quickly identify unmanaged assets that need to be onboarded to your CMDB platform. Get a full picture of all managed and unmanaged assets anywhere on your network. Ensure that your asset inventory is complete and accurate, while getting the network context you need about your assets.