Finding Veeam Backup & Replication instances
Veeam recently published information on two vulnerabilities in the Veeam Backup & Replication product, originally reported by Nikita Petrov of Positive Technologies.
Which versions are affected?
These vulnerabilities affect Backup & Replication versions 9.5, 10, and 11, allowing for exploitation by attackers to achieve unauthenticated remote code execution via the Veeam Distribution Service API. Details on the vulnerabilities (identified as CVE-2022-26500 and CVE-2022-26501) have not been published at the time of writing, though Veeam has assigned a "critical" CVSS score of 9.8.
Is an update available?
Patched releases of Veeam Backup & Replication have been made available (see the "Solution" section). Guidance from Veeam is for administrators to update to these newer versions as soon as possible. If near-term updating is not possible, Veeam offers a temporary mitigation strategy via stopping-and-disabling the Veeam Distribution Service (see the "Solution->Notes" section).
How do I find potentially vulnerable Veeam instances with runZero?
We recently added the default port (9380) for the Veeam Distribution Service API to our runZero Explorer and Scanner. If you are using Explorer or Scanner v2.11.5 or later, you just need to ensure you have performed a recent scan of your assets prior to running the query below. If you are using an older Explorer or Scanner, you can add port 9380 to the "Included TCP ports" (under the Advanced tab) and then run a scan to gather the necessary data.
From the Asset Inventory, use the following pre-built query to locate Veeam Distribution Service instances within your network that could also potentially be running vulnerable versions of Veeam Backup & Replication:
tcp_port:9380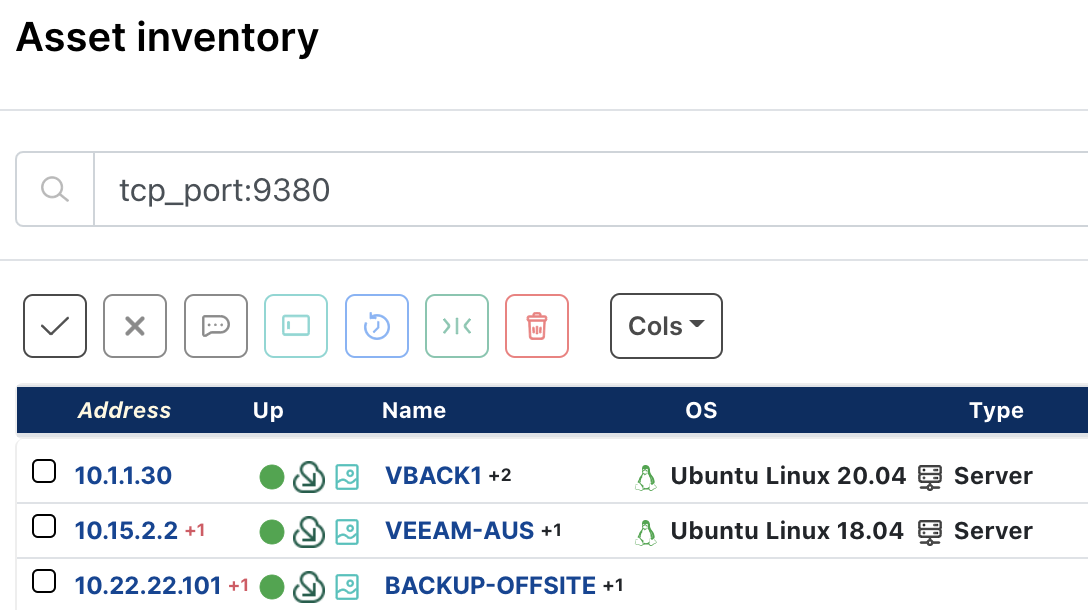 As always, any prebuilt queries we create are available from our Queries Library. Check out the library for other useful inventory queries.
Get runZero for free
Don't have runZero and need help finding potentially vulnerable Veeam instances?
Get started

Similar Content
September 30, 2022
Finding Microsoft Exchange Servers on your network
GTSC, a Vietnamese security firm, recently discovered two zero-day vulnerabilities that affect Microsoft Exchange Server 2013, 2016, and 2019. These two vulnerabilities are being tracked as CVE-2022-41040 and CVE-2022-41082.
August 4, 2022
Finding DrayTek Vigor routers
The Trellix Threat Labs Vulnerability Research team recently published vulnerability details affecting almost 30 models of DrayTek Vigor routers. This vulnerability resides in the management interface login page and is trivial to exploit via buffer overflow. An …
Read More