Finding Nucleus TCP/IP assets with accessible FTP services
Researchers at Forescout recently published findings on a new set of 13 vulnerabilities with the Nucleus RTOS TCP/IP stack, collectively referred to as NUCLEUS:13. Originally released in 1993, Nucleus is found in many different types of products, including devices in the medical, automation, and OT spaces. Most of the surfaced vulnerabilities in the Nucleus:13 set received CVSS scores in the high range (and one, via the FTP service, has a critical score of 9.8), with successful exploitation yielding information leaks, denial-of-service, or remote code execution.
While Siemens, owner of Nucleus, has released patched firmware, device vendors will still need to utilize these for their affected product lines and push out their own updates. Forescout suggests some mitigation strategies for affected devices, which you can take to help reduce your Nucleus:13 attack footprint while awaiting patches.
How to find Nucleus TCP/IP devices with runZero
From the Service Inventory, use the following pre-built query to locate Nucleus TCP/IP assets with accessible FTP services in your network:
_asset.protocol:ftp and protocol:ftp and banner:nucleus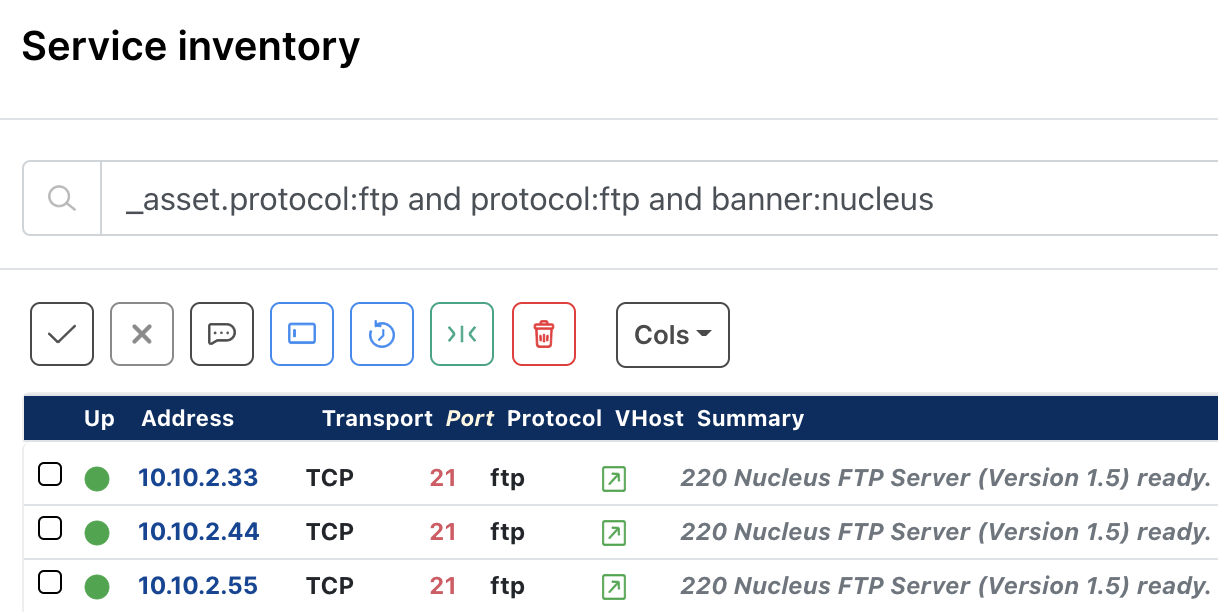 As always, any prebuilt queries we create are available from our Queries Library. Check out the library for other useful inventory queries.
Get runZero for free
Don't have runZero and need help finding assets potentially vulnerable to NUCLEUS:13?
Get started

Similar Content
September 30, 2022
Finding Microsoft Exchange Servers on your network
GTSC, a Vietnamese security firm, recently discovered two zero-day vulnerabilities that affect Microsoft Exchange Server 2013, 2016, and 2019. These two vulnerabilities are being tracked as CVE-2022-41040 and CVE-2022-41082.
August 4, 2022
Finding DrayTek Vigor routers
The Trellix Threat Labs Vulnerability Research team recently published vulnerability details affecting almost 30 models of DrayTek Vigor routers. This vulnerability resides in the management interface login page and is trivial to exploit via buffer overflow. An …
Read More