Finding Microsoft Exchange Servers on your network
GTSC, a Vietnamese security firm, recently discovered two zero-day vulnerabilities that affect Microsoft Exchange Server 2013, 2016, and 2019. These two vulnerabilities are being tracked as CVE-2022-41040 and CVE-2022-41082. According to Microsoft, they are aware of "limited targeted attacks using the two vulnerabilities to get into users' systems." In order for attackers to successfully exploit the vulnerabilities, they must have authenticated access to the vulnerable Microsoft Exchange Server.
What is the impact?
The first vulnerability, CVE-2022-41040, is a Server-Side Request Forgery (SSRF) vulnerability. The second vulnerability, CVE-2022-41082, allows remote code execution (RCE) when the attacker has access to PowerShell. According to GTSC, it appears that attackers can exploit the vulnerabilities to place webshells on exploited systems and set the stage for post-exploitation activities.
Are updates available?
As of September 30, 2022, both CVEs have not been patched, but Microsoft has indicated they are actively working on an accelerated timeline to issue a fix. According to their guidance, Microsoft Exchange Online Customers do not need to take any action. However, on-premises Microsoft Exchange customers should review and apply Microsoft's mitigation steps on URL Rewrite Instructions and block exposed Remote PowerShell ports.
How do I find Microsoft Exchange Servers with runZero?
To get started, you can scan your network with runZero to collect your asset inventory. Then, from the Asset Inventory, use the following query to locate Microsoft Exchange Servers on your network:
product:"exchange server"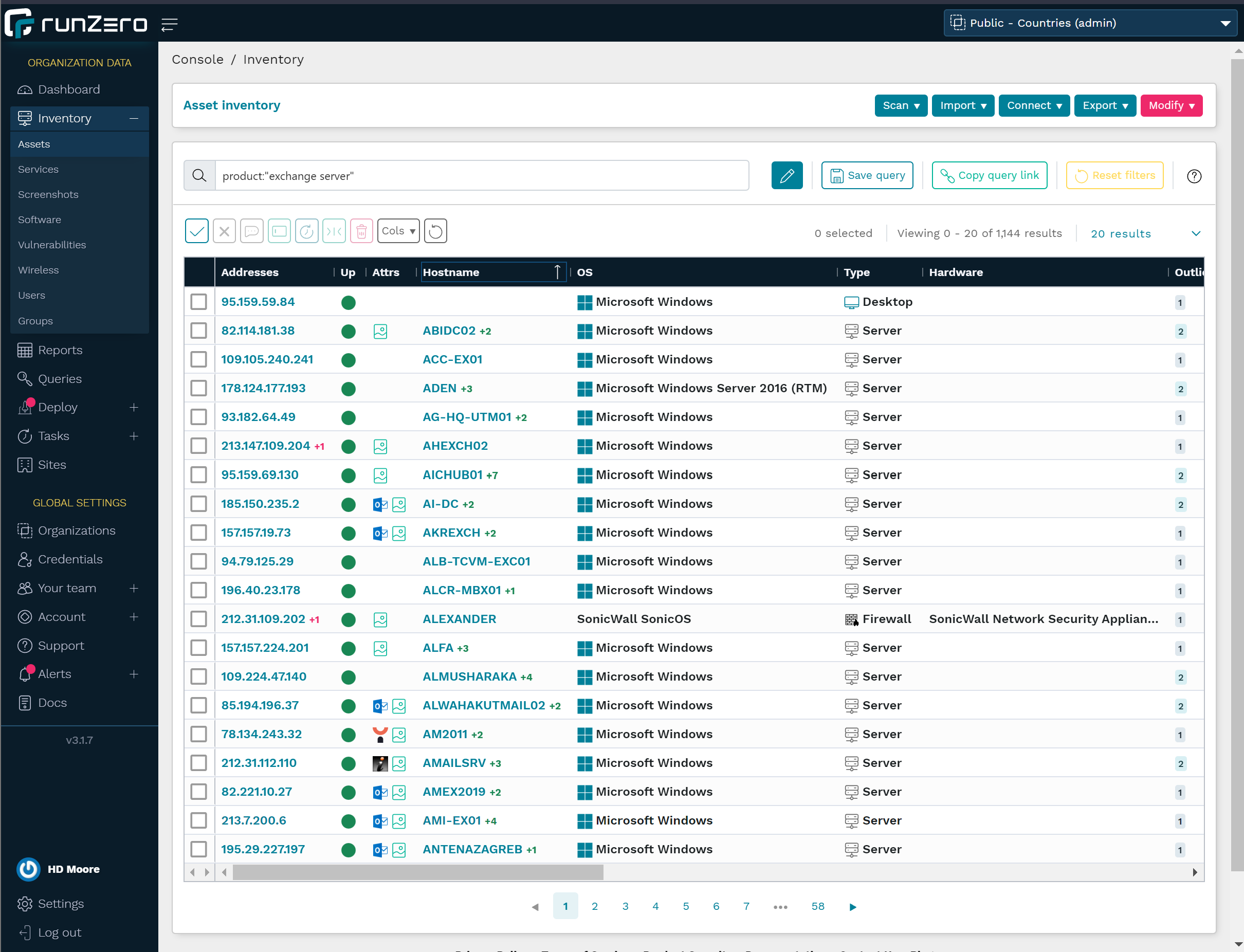 Check out our Queries Library for other useful inventory queries.
Similar Content
December 5, 2022
Finding MegaRAC BMC assets on your network
MegaRAC can be found in many server manufacturers' Baseboard Management Controllers (BMCs), including AMD, Ampere Computing, ASRock, Asus, ARM, Dell EMC, Gigabyte, HPE, Huawei, Inspur, Lenovo, Nvidia, Qualcomm, Quanta, and Tyan. Successful exploitation of these …
November 22, 2022
A 365-degree view of your Microsoft environment
As the scope of corporate networks has been constantly expanding over time, the challenge of maintaining an accurate asset inventory and effectively identifying unmanaged assets has only grown. In addition to on-premise environments, IT and security teams also have to keep …
Read More